Presented at the Chiomonte construction site, Axel, the smart rover, makes it possible to preventively study the environmental conditions in the tunnel in order to guarantee the worker safety. Commissioned by TELT to Webuild as part of the work inside the exploratory tunnel, the prototype has been successfully tested in recent weeks, after only four months between the design and construction phases.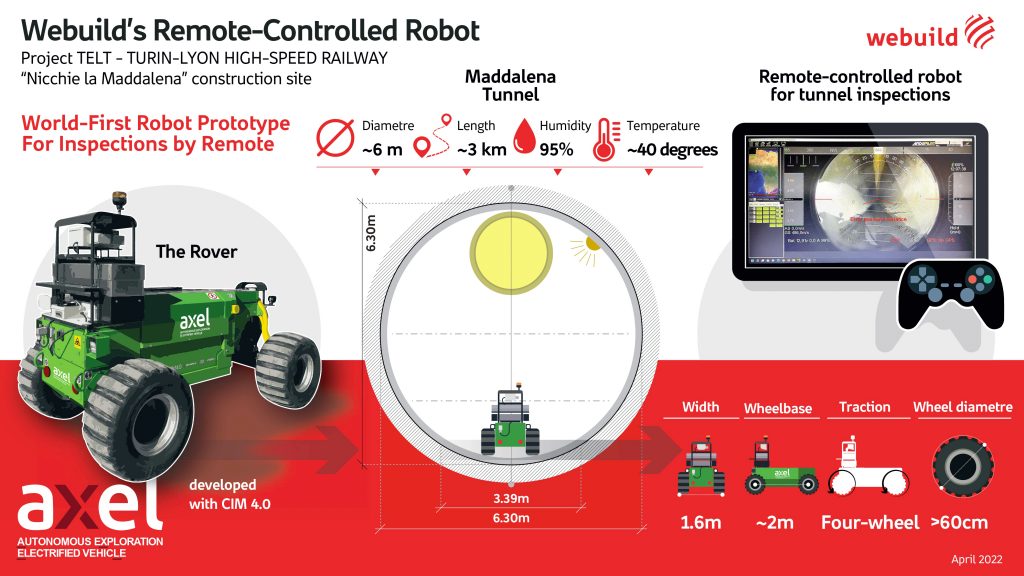 It is a highly innovative remote guidance system, the first in the world capable of replacing humans when exploring sections of tunnels and galleries. Axel, named after the protagonist of Jules Verne's novel Journey to the Centre of the Earth, is the result of a collaboration between the Webuild Group and the CIM 4.0 excellence centre.
The rover is capable of replacing humans in exploring the deepest sections (over 4,000 metres deep) of the Chiomonte tunnel, where the air temperature is over 40 degrees and the humidity is 95%. Moving with zero emissions in complex environments, with slopes and obstacles, Axel, remotely controlled by an operator, collects and analyses environmental data dynamically thanks to a system of cameras and sensors with a very high level of reliability. The results of the analysis allow for the best possible preparation of the rehabilitation work to be carried out, such as cleaning and air renewal, wall consolidation, installation of electrical and air transport systems.
Axel is one of the first applications of Mission-S, TELT's safety strategy for the 12 macro construction sites that make up the project, which considers innovation as one of the fundamental axes for reaching zero accidents.