Upon our imminent return to a world connected through travel, we have to face the challenge of respecting the needs of both the environment and of the transport industry. TELT, the French-Italian public promoter of the cross-border section of the freight and passenger railway line Lyon-Turin, has joined forces with Demos Helsinki to propose a renewed interpretation of public transportation infrastructure, seen as a way to reconnect regions across different planes of reference.
This interpretation, based on the EU Green Deal strategy and on the 2021: European Year of Rail initiative, sees the European map as a cross-border network that encourages and enables multimodal transport projects, while respecting the environment and enabling local economies to flourish.
TELT and Demos Helsinki share a commitment to develop a strategy that puts people first. The key objectives of this strategy are (1) to support the different regions' decarbonisation goals and to promote green growth while also (2) ensuring a fair transition for the communities and the travel industry alike.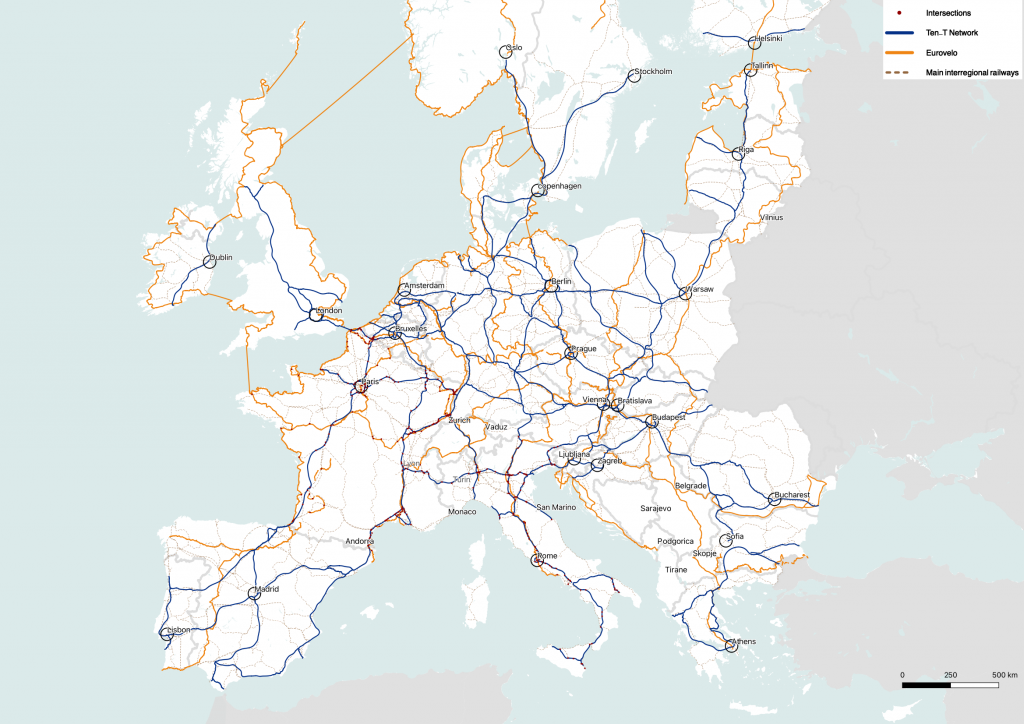 Supporting decarbonisation goals by encouraging green economic growth and enabling sustainable multimodal transport
For travel to become sustainable, perspective voyagers need to have access to alternatives to flights that are both affordable and within easy reach. This is the reason why our vision could be the first case in the EU where the four travel means considered in the map system (rail, local public transit, bicycles, and foot) come together to generate a seamless, door-to-door, human experience capable of accompanying the travellers from their home up to the mountains and beyond. Furthermore, we have considered three key factors: (a) Multimodality replaces single-user-vehicles, so trans-modal solutions could be a big, centralized step towards decarbonisation. (b) This approach achieves faster decarbonisation, as consumer transition to electric vehicles is a slower process. (c) Large-scale infrastructure makes for a much more powerful and collective statement, which has the potential to influence and transform behaviour.
The European Union's current commitment is to reduce its net pollutant emissions to zero by 2050, with intermediate targets set for 2030 and 2040.Achieving this main goal will, of course, require the accomplishment of a whole series of more specific sub-goals. The first and most important one will be to make electricity production cleaner, as this sector is currently responsible for 75% of the EU's greenhouse gas emissions. This can be achieved through the spread of renewable energies and the end of incentives to use of fossil fuels. The second main objective is to improve the sustainability of a whole series of human activities that currently consume a large amount of energy. In this context, mobility is of key importance and a modal shift to railways is one of the main tools for achieving decarbonisation. Road transport accounts for almost three-quarters (72%) of current greenhouse gas emissions in the entire European mobility sector, which in turn emits a quarter of the CO2 produced in the whole EU. Trains, instead, account for just 0.5% of this amount. It is no coincidence therefore that the Commission wants to encourage the use of trains to move a large part of the goods currently carried by road and by ship.
Committing to a fair transition for travel while also empowering regional connectivity and identity
As the EU is committing to decarbonise its industries region-by-region, there is a growing need for a flagship project that will lead the way towards a fair transition from fossil fuels. The new infrastructure built by TELT will contribute to this commitment with a fair redistribution of labour across new sectors of the economy—from the industry itself to the Alps as a whole.
When infrastructures connect small localities in cross-regional networks, they allow for a more equitable distribution of resources via tourism and access to regional markets. This enables a vivid cultural exchange that can create hubs where tourists, travellers, and residents can meet and share goods, services, and resources. This way, the region will decrease its dependence on major intercontinental hubs and will transform into a unique market that adds value to the lives of its communities.
The new gateways, represented by high-speed internet connections and multimodal transport systems, increase social and economic interactions and indirectly promote regional equality, as the areas around the links find it easier to keep up with their neighbours.
A Question of Scales
Mobility infrastructures for passengers and logistics are not just ambitious engineering works. They also shape the development and lifestyles of local communities. Furthermore, they represent one of the most tangible aspects of national political economies that can decide the fate of entire regions. European infrastructures are promoted and financed for the common good, in order to increase the capacity to move sustainably across regions, to link labour markets, to grant fast access to the resources of the Union and of course, to facilitate intercultural exchanges.
The TEN-T is the backbone of the Union, with almost 300,000 km of railway lines, roads, waterways and maritime routes supported by ports, airports, and railway terminals. The second largest route of this network is the Mediterranean Corridor, connecting Eastern and Western Europe with 3,000 km of rail. The Lyon-Turin connection is part of this project. Its 300 km of high-speed rail will play a key role in making a positive impact in the region by offering a competitive alternative to flights and thus by lowering CO2 emissions along the Alps.
Alpine territories constitute an invaluable resource—not just for the seven countries that host them but also for the whole continent. These highlands need special attention in order to prevent both the effects of climate change and negative economic and social phenomena.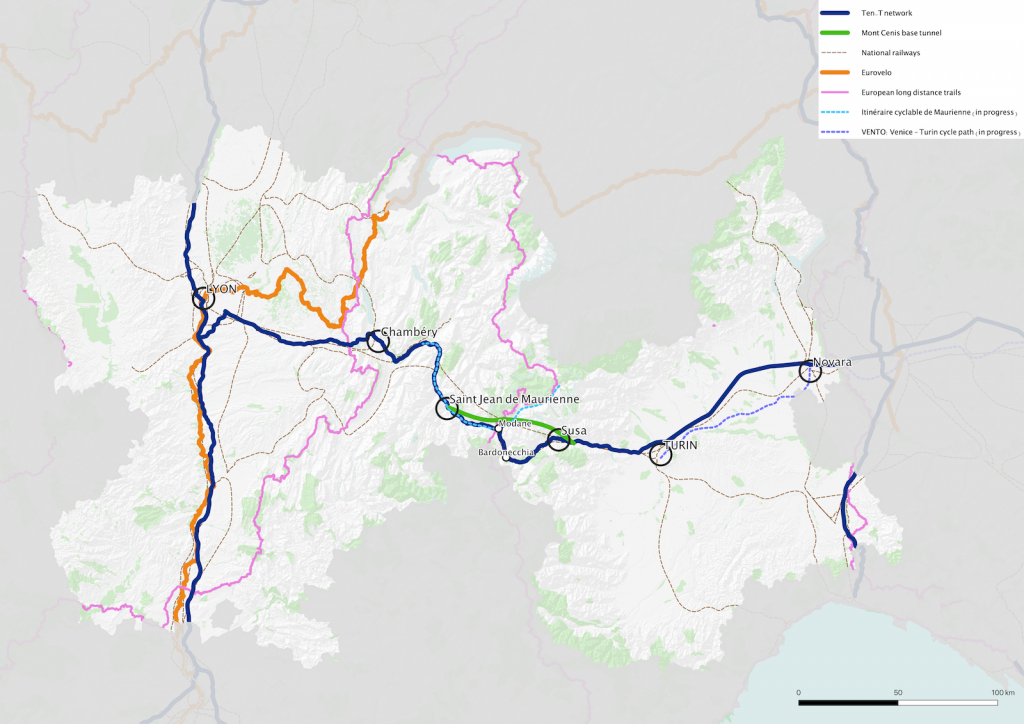 Protecting, and at the same time developing, the alpine areas means implementing long-term solutions able to exploit technological, energetic, and economic innovations to the maximum, so that we may find a dynamic balance between man and nature. For thousands of years, alpine valleys have been an obstacle and at the same time a point of contact between different cultural, economic, and political spheres.
Today, these territories face the challenge of finding new ways: renewable infrastructures are the key to achieving the goal of integration with other areas of the continent such as metropolitan cities, industrial centres or cultural production nodes. In other words, Smart Lands is a way to reduce the distance – not only physical – between rural areas and the big urban nodes.
Mixed and evolved railways, cycle paths, and long-distance trekking routes are the three sides of a triangle that, inspired by the Alpine best practice, draw the mountain of the future. A mountain that is connected, but free from the grip of road logistics and seasonal tourism that crowds places for a few weeks in winter or summer only to abandon them during the rest of the year.
Conclusions
Smart Lands are territories that transform their environmental, social, and economic fragility by overturning the paradigms of growth (or degrowth): it is not a question of slowing down or accelerating, of increasing or decreasing, but of creating regular, lasting flows that are compatible with local environmental and economic resources. An example will be provided by TELT's railway stations in Susa end Saint-Jean de Maurienne. They will become the nodes for local zero-emission mobility services and they will provide a unique journey experience. This shift responds to the Z-generation demands and travel preferences. The two station will allow transnational commuting and promote the use of bicycles, opening a path to carbon neutral tours. Finally, by replacing regional flights with rail as the favourite means of transportation, they will to provide a sustainable and renewable future.